White Peas Husk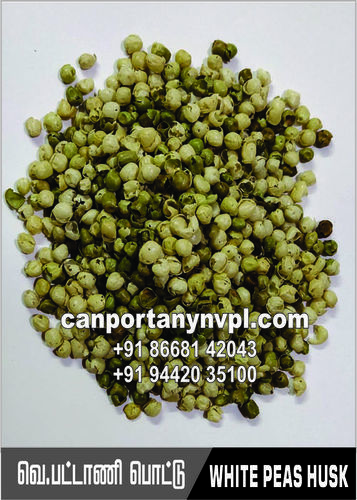 White Peas Husk
Price And Quantity
Ton/Tons

Rs.18,500 to Rs.20,500/- INR
Product Description
White Peas Husk
White Peas Husk compares favourably with other grains and co-products for several nutrients. White Peas Husk are considered a crude protein source. Energy levels are similar to corn for most livestock species with starch (54%) and digestible fibre (hemicellulose fraction 7%) accounting for most of this fraction. Fat is a modest contributor at 1.55%. Amino acids are important to swine and poultry and its amino acids for beef and dairy cattle and sheep. However, rate and extent of ruminal degradation for both starch and protein are important to ruminants. White Peas Husk complements most other grains and can serve as a pellet binder for manufactured feeds.
Feeding Recommendations for Poultry:
Several different classes of poultry can utilize white peas husk in their diets with proper consideration for meeting nutrient requirements. White peas husk can be a viable energy source, as well as a protein source since the amino acid profile closely matches requirements for many of the poultry species. Low levels of trypsin inhibitors in spring-seeded it allow feeding without roasting. Grinding is the preferred processing method for white peas husk in all poultry diets. For laying hens, white peas husk can be fed at up to 40% of the diet without severely affecting performance, but 10% is a more practical level with equal performance. Broilers and turkeys can consume 20 to 30% white peas husk without affecting performance. Commercial xylanases and betaglucanases added to poultry diets increased protein digestibility in diets with high percentages of white peas husk. Due to the shorter digestive tract and rapid passage rate, energy derived from white peas husk by poultry is similar to barley.
Feeding Recommendations for Dairy Cattle:
The versatility of white peas husk is evident as peas have been used successfully in pre-ruminant baby calf diets as well as lactating cow diets. In starter diets, it can be included at up to 40 to 50% of the concentrate replacing portions of corn, barley, and/or soybean meal. White peas husk can be used as the sole protein source for growing heifers. Young cows are also more susceptible than second lactation and older cows to lack of escape protein in the diet. White peas husk replaced soybean meal as a protein source without affecting feed intake, milk yield, or 4% fat corrected milk and it can be used at up to 25% of the concentrate. It effectively improved ruminal pH when substituted for barley in lactating cow diets. Small particle size allows maximum digestion during the relatively rapid passage rate of digesta through the gastrointestinal tract.
Feeding Recommendations for Sheep & Goat:
Experienced shepherds esteem white peas husk for Fattening Sheep - supported by recent research using field pea in growing and finishing lamb diets. White peas husk appears to have a net energy value at least equal to corn and in one trial 14% greater than corn. White peas husk was successfully included at up to 45% of the feedlot diet, replacing a portion of the corn and all of the soybean meal. It appears to be an excellent source of energy, protein, vitamins and minerals for growing and finishing lambs. Least cost rations should be balanced based on relative feed costs and expected performance.
Feeding Recommendations for Swine:
The nutrient density and low fibre levels in white peas husk makes it an attractive feed for swine diets. Balancing these diets requires appropriate complementary feeds or supplements. Starter diets can contain up to 15% white peas husk, and a maximum recommended level to 20%. Early weaned pigs should weigh at least 20 pounds and be 20 days old before introducing it. For growing finishing pigs, substantial evidence exists that it can replace all of the soybean meal and a portion of the basal grain in wheat , barley, and/or hullless-oat grain based diets.. Growing diets for swine may contain up to 40% white peas husk. Recommendations from finishing research indicate pigs perform well on diets that contain from 10 to 43% white peas husk. Addition of the enzymes phytase (phosphorous metabolism) and xylanase (fibre digestion) further increased performance of growing pigs fed with white peas husk. In lactating sow diets, it can replace up to 30% of soybean meal without affecting performance. White peas husk should be ground or pelleted with other feeds when included in swine diets. It must compete economically with other feeds as an energy and protein source and can be used without affecting animal performance.
Trade Information
Cash on Delivery (COD)

5000 Tons Per Month
If order is confirmed we will reimburse the sample cost

South India
Contact Us
Door No. GA, Vairam Kamalam Apartments, Sambakulam, K. Pudur Post, Madurai, Tamil Nadu, 625007, India
Phone :+918045804308